Illawarra Family Day Care Philosophy
Created by Educator's, Children, Families, staff and Committee of IFDC Guided by the Early Childhood Australia Code of Ethics, The United Nations Declaration of the Rights of the Child, Early childhood theorists, NSW Child Safe Standards, Early Years Learning Framework (EYLF) and My Time Our Place (MTOP) Framework
'Illawarra Family Day Care acknowledges the Dharawal people as the Traditional Custodians of the land within Illawarra. We value and celebrate Dharawal culture and language, and acknowledge Dharawal people's continuing connection to the land, the sea and community. We pay respect to the Elders and their families, past, present and emerging, and through them, to all Aboriginal and Torres Strait Islander peoples'
Community
We believe that community is essential to providing quality outcomes for children. A community provides an important relationship environment; promotes belonging, a sense of identity and learning; supports active participation in the world and continuity of learning; and connects children and families to supportive relationship and resource networks.
Engaging with the community builds on children's interest and expertise in being and becoming contributors to their world. By learning about their local community contexts, our programs enhance children's learning, development and well-being as they become active citizens. .
'What's the best and wisest parent wants for his own child, that must the community want for all its children' – John Dewey (U.S philosopher & Educator)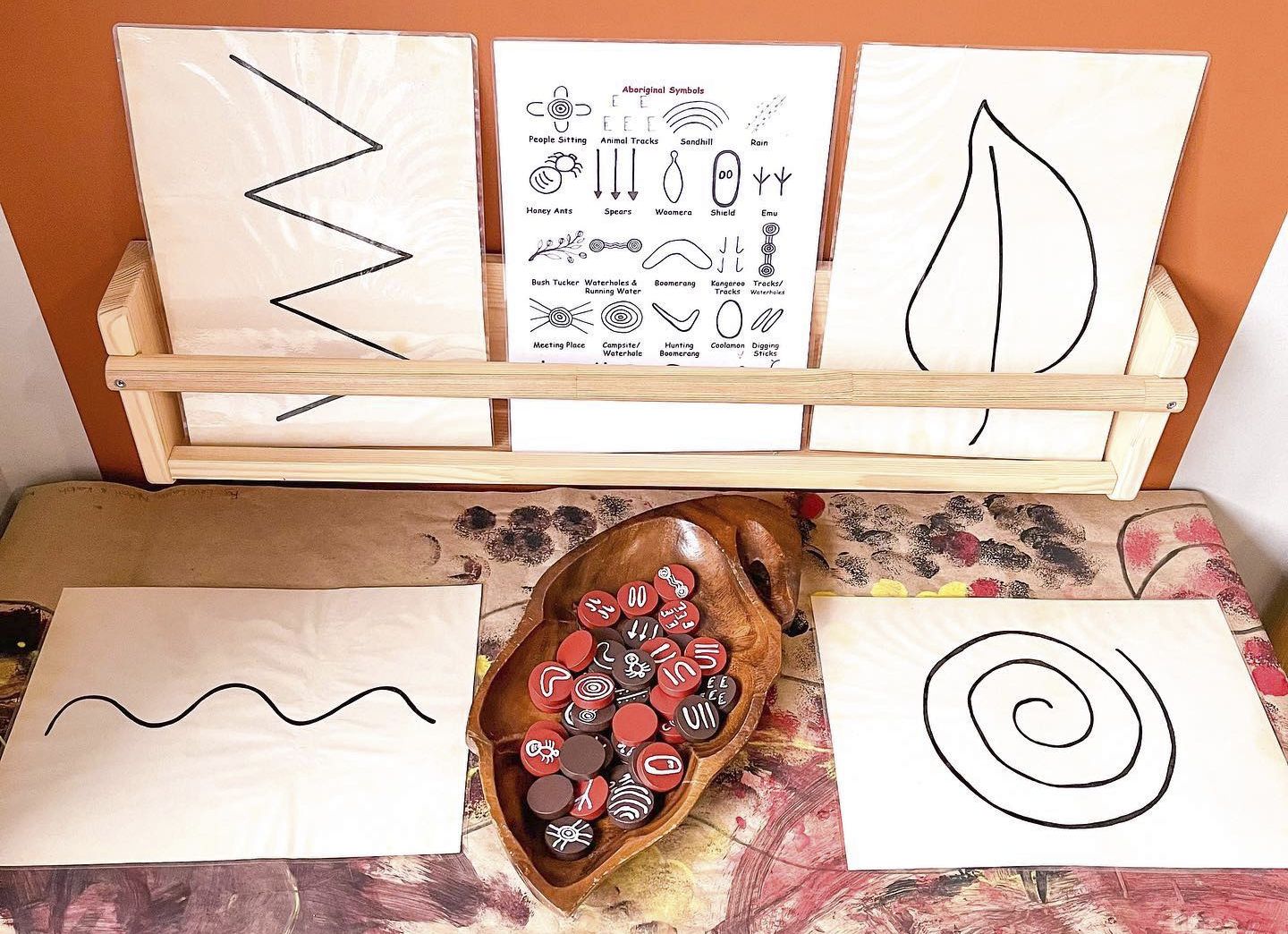 ---
Partnerships with Families
We believe that young children do best -now and later- when they are nurtured within a tightly woven web of love.
Families are children's first and most influential teachers. Partnerships are based on the foundation of understanding each other's expectations and attitudes and builds on the strengths of each other's knowledge.
Our educators & staff work in collaboration with our families to build trust and openly communicate with each other. Through effective partnerships, families and educators will feel comfortable approaching each other and relying on one another for support.
Having a 'bigger picture' of a child's world allows educators to relate to children in a way that makes them feel understood which then strengthens relationships. It enables us to learn about, respect and respond to the uniqueness of each family, their circumstances, culture, family structure, customs, beliefs and kinship system.
We respect families' rights to privacy and adhere to confidentiality at all times.
'Every child deserves a champion- an adult who will never give upon them, who understands the power of connection and insists that they become the best they can possibly be' – Rita Pierson (Professional Educator)
Relationships with Children
We believe when children experience nurturing and respectful relationships with educators they will develop an understanding of themselves as competent, capable and respected, and feel a sense of belonging. This helps children feel safe, secure, and included, and helps them grow in confidence to play, explore and learn.
Each child is viewed as unique individuals who bring their own special skills, talents and experiences to be celebrated in their early education and care environment through our programs and curriculum.
Our Educators believe in gaining each child's trust and making an effort to get to know them well, which is an ongoing process of relationship building, and extends far beyond simply being friendly. From this knowledge we are able to provide a meaningful curriculum to enrich children's learning, balancing child and educator initiated experiences. Children learn through their positive relationships about their responsibility to others, to appreciate their connectedness and interdependence.
We believe in acting in the children's best interest at all times. We are committed to making our organisation safer for children by embedding child safe attitudes, behaviours and practices at every level of our organisation.
'No significant learning occurs without a significant relationship.' – Dr James Comer (Professor of child psychiatry at Yale University).
---
Sense of Wellbeing
We believe that a sense of wellbeing in children incorporates both physical and psychological aspects and is central to belonging, being and becoming. Being healthy, well rested and free of illness assists children to be able to participate happily and successfully in the environment.
Educators attend to children's wellbeing by providing safe and secure environments, affirmation and respect for all aspects of their physical, emotional, social, cognitive, linguistic, creative and spiritual being.
We believe in developing children's resilience and their ability to take increasing responsibility for self-help and basic health routines. Routines provides opportunities for children to take increasing responsibility for their health, hygiene and personal care and to become mindful of their own safety and the safety of others. In turn this builds children's confidence and sense of independence.
Learning about healthy lifestyles, including nutrition, personal hygiene, physical fitness, emotions and social relationships is also integral to wellbeing and confidence increasing children's ability to concentrate, cooperate and learn.
'In my opinion, young children deserve nothing less than our full commitment to their wellbeing'. – Gaye Gronlund (Early childhood consultant & policy maker).
Culturally Competent
We believe cultural competence is about our will and actions to build understanding between people, to be respectful and open to different cultural perspectives and strengthening cultural security.
Cultural competence is not static, and our level of cultural competence changes in response to new situations, experiences and relationships. We recognise, respect and celebrate the diverse culture that each child, family, educator, Staff member, Committee member and community member brings to the scheme.
It occurs overtime, by our connection with others and through our daily experiences with children and families in local communities. Our Educator's aim to equip all children to live well with diversity and become active citizens now and into the future.
It is through our commitment and our daily action to truly value difference that we become a community in which we all belong and flourish.
'Language & culture are the frameworks through which human's experience, communicate & understand reality' – Lev Vygotsky 1968 (Russian psychologist – sociocultural theory).
---
Learning Environments
Our learning environments reflect a positive and welcoming space where children feel comfortable to participate, explore and grow.
We believe that play is a very significant component of a child's learning experience and is a foundation for their growth and development. Creating and providing children with an environment that supports their health, safety and cognitive thinking is extremely important for their overall learning experience and growth.
We believe indoor/outdoor learning environments support all aspects of children's learning and invite conversation between child, educator, family and the broader community. Learning environments promote opportunity for sustainable shared thinking and collaborative learning. Our learning spaces invite open ended interaction, spontaneity, risk taking, exploration, discovery and connection with nature.
Our environments are inclusive, promotes competence, independence and learning through play.
'A child's play is not simply the reproduction of what he has experienced, but a creative reworking of the impressions he has acquired.' – Lev Vygotsky 1968 (Russian psychologist – sociocultural theory).
Learning through Play
We believe play is one of the most important ways that children learn about life and about themselves. Experts agree that play is one of the most important ways that children learn and prepare for life, as well as being a crucial activity for igniting and stimulating a love of learning.
Play is vital for brain development and helps to build children's communication skills, to understand their place in the world and to explore their feelings. It helps children to develop their personalities, talents and abilities building their self-worth and resilience.
Development and learning are complex and holistic, and skills across all developmental domains can be encouraged through play, including motor, cognitive and social and emotional skills. Indeed, in playful experiences, children tap into a breadth of skills at any one time.
Play provides a meaningful curriculum to enrich children's learning in a supportive environment. During play children discover, create, improvise and imagine. When children play with other children they create social groups, test ideas, challenge each other's thinking and provides new understandings.
'Play is the highest form of research.' – Albert Einstein (German physicist – Nobel prize winner)
---
Pedagogical Documentation
We use the EYLF and MTOP frameworks to guide the educators in their curriculum decision making as part of an ongoing cycle to assist in planning, implementation and evaluating children's learning.
We believe working in collaboration with staff, educators, families and children using the learning outcomes of the approved frameworks to co-construct curriculum and learning experiences.
Educator's professional judgements are central to their active role in facilitating children's learning. In making professional judgements, they weave together their; professional knowledge and skills, knowledge of children, families and communities, awareness of beliefs and values, personal teaching style and past experiences.
Educators intentionally scaffold children's understanding and learning by making use of planned, spontaneous and intentional teaching moments to extend on children's learning relevant to children in their local context.
Educators also use reflective practice as a form of ongoing learning which involves engaging with questions of philosophy, ethics and practices.
'Scaffolding is one tool that teachers use to ensure that students are able to operate in their zone of proximal development. (ZPD) – Lev Vygotsky (psychologist – sociocultural theory)
Sustainability
We believe young children represent the first of future generations, which makes it important for us, as educators, to help the children realise the significance of caring for and protecting their environment.
We believe in promoting sustainable practices in everyday learning. Educators, children and parents working together to show respect, care and appreciation for the natural environment.
'Free the child's potential, and you will TRANSFORM him into the world.' – Maria Montessori (Italian physician – acclaimed for her educational method that builds on the way children naturally learn).